LIVES LOST 
Learn their stories. Say their names.
STEPHON CLARK, March 18, 2018
In March of 2018, Stephon Clark, a 22-year old unarmed black man, was shot and killed by police in his grandmother's backyard in Sacramento, California. Police fired 20 shots, hitting him eight times, presuming he had a weapon. All he was carrying was his cell phone.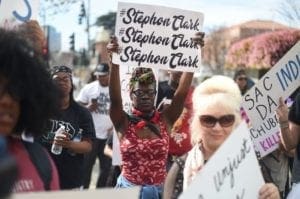 Footage, both from aerial cameras and a body camera,
depict a use of lethal force that may be in breach of international law and standards. Amnesty International called for an investigation that is thorough, transparent and impartial.
The killing of Stephon Clark sparked the state of California to act. In 2019 the state passed a more restrictive use of force law due to the dedication of families directly impacted by police violence and a diverse coalition of organizations, including Amnesty International USA, to back them up.
MICHAEL BROWN, August 4, 2014
In 2014, an 18-year-old, unarmed black man named Michael Brown was shot six times by a white police officer in Ferguson, Missouri. The incident sparked local and national protests. Along with the deaths of Tamir Rice, Natasha McKenna, Eric Garner, and many others, it also set off a long-overdue national conversation about race, policing, and justice.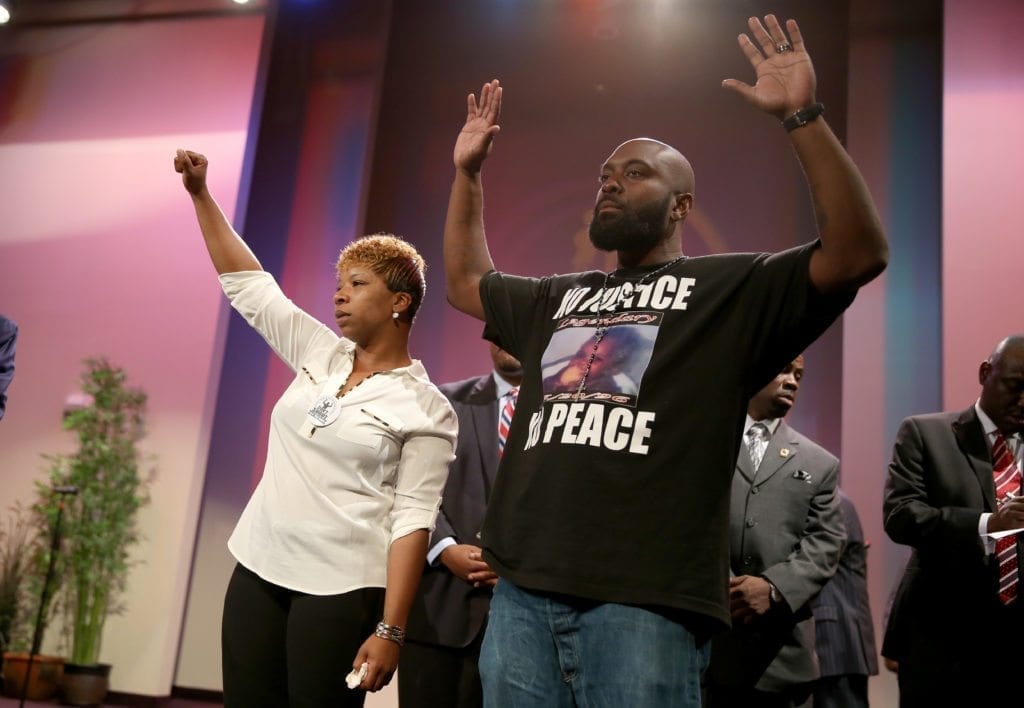 Amnesty International deployed a delegation to Ferguson, some of whom worked with community members while others monitored the police response to the protests. Two months later, Amnesty International issued a report detailing the human rights implications of Brown's shooting, as well as the failure of police to protect people's right to protest peacefully in the aftermath of the shooting.
The City of Ferguson agreed to some reforms and training for police officers, but has been negotiating for years with the federal government over the terms of those changes. A bill to limit police use of lethal force advanced in the Missouri State Legislature, but ultimately has yet to pass.
REKIA BOYD, march 21, 2012
Rekia Boyd, an unarmed 22 year-old Black woman, was shot and killed by Chicago police officer Dante Servin on March 21, 2012. Servin was off-duty when he used an unregistered handgun to fire five shots at Rekia Boyd and three of her friends from his car.
The fatal incident occurred at approximately 1 a.m., when the group was making its way home from a party. Dante Servin asked the two women and two men to quiet down and an exchange of words followed. According to the prosecutors, the group had started to walk again when Dante Servin fired five rapid shots out of his car window,
striking Rekia Boyd in the back of her head and one of her friends' hands.
Dante Servin argued that he thought that one of the men in the group had pulled a gun, but no weapon was recovered by the police and it later transpired that the officer had mistaken the man's cellphone for a weapon.
Dante Servin was charged with involuntary manslaughter, reckless discharge of a firearm, and reckless conduct but cleared of all charges in April 2015. In a directed verdict, the judge ruled that the state had failed to prove recklessness since "the act of intentionally firing a gun at some person or persons on the street is an act that is so dangerous it is beyond reckless; it is intentional and the crime, if any there be, is first degree murder," rather than involuntary manslaughter. In 2013, the city of Chicago settled a lawsuit with Rekia Boyd's family for $4.5 million.
Antonio Zambrano-Montes, february 10, 2015
Antonio Zambrano-Montes, 35, a Mexican father of two, was shot and killed by police officers in Pasco, Washington. A video capturing the fatal incident shows Antonio Zambrano-Montes running from three police officers across a busy intersection, with police officers opening fire as Antonio Zambrano-Montes started to cross the road and was raising his hands.
The police officers chased after Antonio Zambrano-Montes onto the sidewalk and, facing him, discharged several further shots. Of the 17 bullets aimed at Antonio Zambrano-Montes, five to six struck him, causing his death.
Investigators have confirmed that Antonio Zambrano-Montes was unarmed at the time of the shooting, although the officers contend that he had thrown rocks at them and traffic, and was holding another in his hand. The officers, who were responding to a 911 call, also allege that they had attempted to subdue Antonio Zambrano-Montes with a Taser prior to opening fire at him.
Zambrano-Montes' family has filed a lawsuit against the city following his death. Antonio Zambrano-Montes who grew up in Mexico, had come to the United States about a decade ago to pursue fruit orchards work.