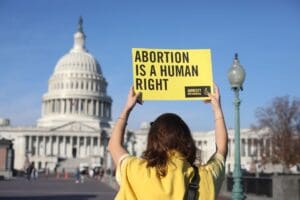 Access to abortion is a human right, and international human rights committees have consistently found that criminalizing abortion violates the rights of women, girls, and people who can become pregnant in a number of ways.
Following the Supreme Court's reversal of Roe v. Wade in June of 2022, abortion rights are no longer federally protected in the U.S.  We must fight for our rights now more than ever! 
Here are 5 things you can do right now to fight for abortion rights: 
Click here to send an email

 to your governor urging them to protect abortion rights in your state.

Write a letter to the editor (LTE) or op–ed in your local paper to keep abortion rights in the news for your community and decision makers.
Contact your state and local representatives and urge them to protect abortion rights.

Tell Facebook to

stop censoring posts

with reproductive rights information 

Write a letter to President Biden asking him to take bolder actions to protect abortion access across the United States. 
Find more actions in our TAKE ACTION center below.